Posted the 15th day of January in 2008 by Riley.
Fake G-Shocks in US Retail Stores
There is a large number of fake G-Shocks being sold on eBay, online stores and even in local shopping malls. A fake G-Shock looks worse, will easily fall apart and is not nearly as cool as the real thing.
Amazon.com is probably the safest place online to buy G-Shocks. And they have really good prices and selection too. Here's an easy tool to look up current good deals on Amazon:
Amazon G-Shock Deal Finder - Amazon is the safest way to buy G-Shocks.
The best way to tell if a G-Shock is real or not is to look up the Casio model number here (enter the model # in the search box):
G-Shock Section of the Watch Archive
Compare the seller's photos to the image(s) on the archive page for that model (example).
Most fake G-Shocks don't even list a real model number for the watch (G-9000-1, DW-6900CS-1, etc…).
All G-Shocks should have the word "Casio" on the face and on the back (might be small though)
Every real Casio G-Shock should come with a box that has the full model number printed on the back (by the bar code). Look for the official Casio G-Shock logo too. And a partial model number will always be engraved on the case back. It's probably a fake if the watch doesn't have one, or if it doesn't match the photos in the watch archive.
Be sure to check the details like the text painted on various surfaces. The knockoffs often have poor quality control. Fakes often use a very cheap LCD that stands out when compared to an authentic model. The real ones also should have a good quality backlight. Once you've handled a few real Casio watches and their packaging it becomes much easier to spot the fake ones. You can go to a known good retail store like Macy's, Target or Sears to see a real one in person.
Most of the fakes are pretty easy to spot. Like these crappy Baby-G watches:
Poor quality fakes
But better quality varieties are now becoming more common. Here's some better quality fake G-Shocks:
Fake G's
Every Photo on this Page is of Fakes!
(except for a few real ones posted in the comment section by people asking about them)
Don't be fooled into buying any of these crappy fake G-Shock watches. The real thing is much better.
Here's some good resources to check if you are interested in learning more about all the fake Casio G-Shocks that are out there.
- Watchuseek Forum for Fake G-Shock Reports
- G-Peopleland Fake G Alert
- Fake Bathing Ape G-Shock Guide
Be sure to look up more information on any model you are not sure about. You really are only going to be happy with a genuine G-Shock.
The watches in all of these photos are 100% fake. Don't buy one. They won't last longer than a month and any exposure to water will probably kill it. Real G-Shocks will last near forever and shrug off all kinds of abuse. And you will look like a loser wearing a fake one. The real ones stand out and look much cooler.
Update: Photos of new fakes in US malls, plus lots more.
All Fakes
There's no real Frogman with analog hands
Fake G-Sport Watch - All G-Sport Watches are fake (Casio doesn't use this name)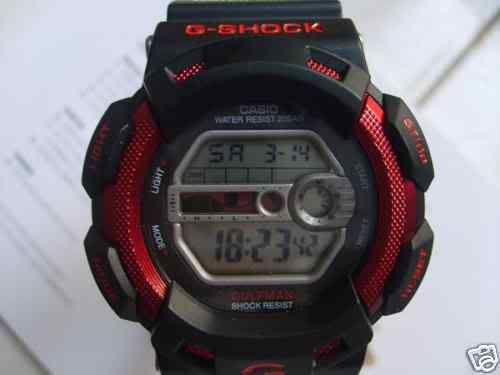 Fake Gulfman
Fake Frogman
Some fake Frogman watches say "Aqua Sports" on them. No real Casio G-Shock says that on them.
Fake Mudman
Fake analog/digital G-Shocks
Fake Frogman G-Shock
Fake Riseman
Fake Gulfman G-Shock
Fake White BAPE. Many fake Bapes have a nice box, paperwork and serial number. It's really hard to spot the bad ones from low quality photos.
Fake Casio Pro Trek
Fake Frogman style watch
Fake GW-9200 Riseman G-Shock
Fake Yellow C-Shock Frogman
Fake Ice Shock Frogman
Fake MT-G Neon Illuminator Frogman (ILLUMINA TOR)
Fake Green 7700 Watch
Lots of fake Casio watches
More fakes in a jewelry store
White fake DW-6900
Fake White Frogman DW-8200
Fake GW-200 Style White Frogman
Fake Pink Frogman
Fake Yellow "Titanium" Frogman G-Shock
| | |
| --- | --- |
| | |
| Fake white Sport G-7900 | Fake blue Sport G-7900 |
Fake Transformers Cybertron G-Shock (off center dash in date and two dots in the time)
Fake G-Shock "Sport" Watch
Riseman "Replica"
Mudman Sport "Replica"
Fake Frogman "Tecno Sport"
Fake White DW6900 G-Shock Sport
Fake "Aquastar" Frogman
Fake black Frogman variant
Fake "Titanium" Frogman
Fake MT-G Casio G-Shock
New Fake G9100 Gulfman G-Shocks
These fakes have the "Casio" text and look better than the usual fakes
Be careful when shopping for a Gulfman now
Fake G7900 G-Shock
More Colorful Fake G-7900 G-Shocks
Fake Black G-7900
Fake "CASIO G-Shock 9200 Leisure Sport Watch GF-9200-1DRF" watches
Fake yellow GA100 on the left - real one on the right
Fake black GA100 on the left - real one on the right
Fake red GA100 on the left - real one on the right
Fake Red GX56 G-Shock
Fake Orange Riseman
Fake GD100 G-Shock
Fake GX-56 King G-Shock
Fake White G-5600 "G-Shock"
Fake Red G-5600 "G-Shock"


And here's a video of a bunch of fakes. None of these are legit:


And here's another video doing some investigating in a mall:
Mauricio2610 made this video of a fake Transformers Destron DW-6900 G-Shock. He points out some good tips for spotting a fake G.
Paul Micken made this helpful video comparing a fake yellow Bape to a real red Bape. As you can see, a fake G-Shock is easy to spot if you have a real one next to it. Watch and learn.
If you find a watch and you're not sure if it's legit or not, you can post in the comment section below. I'll try to help you out.